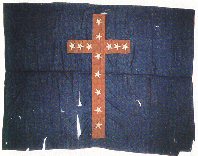 The Third Kentucky Infantry , Company C, is dedicated to presenting an authentic impression of a Confederate infantry soldier in the Western Theater during the War Between the States. During the time that the public has access to camps we are a functioning military company. We participate in school presentations, parades, memorial services, living histories, reenactments and museum intrepretations. Constant research and modifications takes place within our unit to insure an authentic presentation.
Opportunities are offered for both military and civilian branches to participate in authentic scenarios.
The Third Kentucky, Company C is a member of the Tennessee Valley Battalion, commanded by Col. Bill Andrews. Other members of the Tennessee Valley Battalion include: 1st Arkansas (British), 1st Arkansas (Clan McGregor), 7th Arkansas, 7th Kentucky, 8th Kentucky, 20th Mississippi, 5th Tennessee, 31st Tennessee, 48th Tennessee and the 50th Tennessee.
You are listening to the KENTUCKY BATTLE SONG
"Kentucky Battle Song" arrangement copyright © 1997 ReWEP Associates. All rights reserved.
For more information contact sjcbritt@earthlink.net, or contact one of the persons listed on our current members roster.

Current Roster of the Third Kentucky
Capt. Scott Busenbark
1st Lt. Steven Elliot
1st Sgt. Keith Davis
2nd Sgt. Chris Marshall
1st Cpl. John Britton
3318 Cornelia Dr.
Louisville, KY 40220
2nd Cpl.Brian Davis
1395 Lampkins Rd.
Cottage Grove,TN 38256
3rd Cpl. David Pruit
9540 Tom Counce Rd.
South Fulton, TN 38057
4th Cpl. Jeremy Lynton
3607 Goldsmith Ln.
Louisville, KY 40220
Matthew Kopecky
Matthew Scott
Bob `` Gabby`` Adams
Larry Bell
Brent Dukes
Mark Kopecky
Gary Long
James Riddle
Greg Moyers
Bob Riddle
Bill Perry
Alan Long
Robert Fisher
Boyce McAllister
Sam McAllister
Ricky McAllister

James M. Pierce, Capt.
Ab. McGoodwin, Capt.
(Gov) T.W. Rucker,1st Lieut
J.S. Wheeler, 2nd Lieut.
W.H. Carter, 3rd Lieut.
R. Pool, 3rd Lieut.
E.L. Bradley, 1st Sgt.
B.D. Lay, 1st Sgt.
W.C. Kinsolving, 2nd Sgt.
T. McKane, 2nd Sgt.
J.M. Howard, 3rd Sgt.
W.H. McCarty, 3rd Sgt
W.B. Early, 4th Sgt.
J.M. English, 4th Sgt.
R.H. Perkins, 5th Sgt.
J. Prince, 5th Sgt.
J.T. Evans, 1st Corpl.
C.C McGary, 1st Corpl.
S.D Lester, 2nd Corpl.
R.J. McCaslin, 2nd Corpl.
W.O. Cantrell, 3rd Corpl.
G.D. McGowan, 4th Corpl.
T. Casey, Mus.
Robert Young, Mus.
W.H. Evans, Mus.
R.C. Purdy, Mus.
F.M. Moore, Mus.
Beard, Alfred
Blick, G.D.
Blount, Miles
Bradley, R.J.W.
Branden, M.C.
Burke, W.C.
Burnett, J.M.
Burns, J.W.
Calhoun,J.S.
Casey, T.
Cook, J.B.
Darnell, A.G.
Egnot, J.C.
Flynn, Mike
Finley, F.M.
Garner, J.A.
George, J.J.
Gossett, S.D.
Goodwin, J.H.
Hart, W.A.
Hayes, Uriah K.
Holden, D.S.
Hollowell, W.H.
Hollowell, Wm.
Hooper, C.S.
Howard, W.B.
Howell, W.H.
Hunter, James O.
Johnson, C.H.
Jones, G.F.
Kennedy, J.R.
Kennedy, O.T.
Kennedy, Isacc
Kennedy, J.L.
Kent, J.H.
King, F.A.
Mankins, S.B.
Martin, F.S.
Martin, V.B.
Martin, R.G.
Mifhin, J.C.
Mitchusson, J.W.
Moore, M.A.
Moore, G.W.
Moore, J.
Moore, F.M.
Moore, J.A.
Morse, E.S.
Murphy, Tim
McGary, T.E.
McGary, C.C.
McGoodwin, R.L.
McLinn, J.R.
O1Darnell, F.M.
Patrick, Newton
Potter, Samuel
Prince, E.O.
Quisenberry, James
Riley, H.
Riley, J.W.
Rogers, D.F.
Rucker, D.B.
Scarberry, Robert
Sevilles, S.W.
Shaw, W.D.
Smiley, Henry
Smith, F.R.
Soery, R.B.L.
Stevens, D,C,
Stone, J.W.
Story, James
Swartzell, Joseph
Wadlington, C.H.
Walker, J.H.
Wash, J.W.
Wash, W.J.
Watson, W.V.
Watson, W.L.

The Third Kentucky was organized at Camp Boone, Montgomery County, TN, in July of 1861, with Loyd Tilghman as Colonel, Albert P. Thompson Lt. Col., Ben Anderson, Major, Captain Alford Boyd, Assistant Quartermaster, Captain J.S. Byers, Assistant Commissary-Sergeant, Dr. J.W. Thompson, Surgeon, Dr. J.B. Sanders, Assistant Surgeon. Col. Tilghman was promoted to brigadier-general shortly after the organization and Thompson became colonel. They were brigaded with the Second, Fourth and Ninth Kentucky, and for a while under the immediate command of General Simon B. Buckner.

At Shiloh the Third was under Breckinridge in a brigade consisting of the Fourth Alabama, Thirty-First Alabama, the Third, Fourth, Sixth and Ninth Kentucky , commanded by General Trabue. The Third was first deployed in the rear and to the right of General Polk's line. General Beauregard ordered the detachment of the Third Kentucky, Fourth Alabama Battalion and Crew's Tennessee battalion with Byrn's battery, to the right to support General Anderson. Col. Trabue continued to push his lines forward. He moved them into the woods which he found thick with underbrush, but they continued to move forward. General Breckinridge decided to charge, and announced he would lead the men. General Johnston also accompanied them. They swept the line through a storm of fire over a hill and across the intervening revine and up the slope occupied by the enemy. Nothing could withstand it. The enemy broke and were pursued by the Kentuckians. One hundred and seventy-four men from the Third Kentucky men were lost at Shiloh, including all regimental officers who were engaged.

They remained at Port Hudson until August 20, 1862, when they set out for Jackson, Mississippi. General Breckinridge had received orders to take the Fourth, Sixth and Ninth Kentucky Regiments and report to General Bragg,who was on his way to Central Kentucky. The Third, Seventh and Eighth were separated from the other Kentuckians for the remainder of the war . They became a part of what was to be called the Army of West Tennessee.

Returning to Port Hudson they were soon ordered to reinforce Bragg at Tullahoma. While still in route to Tullahoma they were ordered to turn back and assist General Pemberton at Vicksburg. It was at Vicksburg the Third lost their beloved General Tilghman who was directing the fire of his artillery.

By March of 1864 the Third's numbers were small, and with no hope of recruiting from their native state, they were ordered to report to General Forrest. It was generally understood that Forrest would move in the direction of their homes in Western Kentucky . While horses were in short supply for the Kentuckians who joined up with Forrest, knew he was heading toward Kentucky, and they agreed they would start out on foot. The Kentuckians were divided into four brigades, the third brigade which was composed of the Third Kentucky, commanded by Lt. Col. G.A.C. Holt, along with the Seventh, Eighth and Twelfth Kentucky. The brigade was under the command of Col A.P. Thompson. General Buford was assigned to command a division which was composed of Bell's and Thompson's brigades. On March 15, 1864 they began to head north, towards home. General Forrest moved the Kentuckians towards Paducah. When they were within three miles of Paducah they encountered Union pickets and pushed them back to their encampment on the outskirts of Paducah. When within range of the fort, the federals opened artillery fire on the Confederates. The Kentuckians continued to move forward through the streets of the town, taking cover behind buildings. As they moved closer to the fort, it was discovered that it was surrounded by a deep ditch with perpendicular banks which rendered its crossing impossible. A retreat was ordered but they continued to trade fire with the fort until nightfall. The causalities in numbers were light . However A.P. Thompson was killed by cannon shot while leading his troops.

After a successful venture into Western Kentucky and Western Tennessee, Forrest and his men returned to Mississippi. Brice's Crossroads was perhaps one of the most significant engagements the Third fought. They were under the command for General H. B. Lyon. The Third, along with the Eighth and Twelfth Kentucky moved directly down on the concentrated Federal batteries around Brice's house. Although they were greatly outnumbered they not only contained the federals, the federals were routed.

At Franklin the Kentuckians encountered the Union forces on Winstead Hill. A line of skirmishers were in front of the Kentucky units. The Kentuckians engaged the enemy, moving at a right oblique to allof the infantry to form. As luck had it, it was the twelfth Louisiana who formed on their right. They had brigaded together before the Third had become mounted, and therefore each had confidence in the other. The federals were driven across the Harpeth river. After Franklin the Kentuckians, under the leadership of General Forrest pursued and engaged the enemy all the way back to Nashville.

They continued to fight bravely throughout the remained of the war. They were surrendered on May 6, 1865 at Columbus, Mississippi.


The Confederate Network

31st Tennessee

7th Arkansas

Tennessee Valley Battalion

1st Confederate Division

Mississippi Valley Brigade

104th Pennsylvania

Confederate America

Color Guard

Civil War Music

Period Fabric

Jefferson Davis Memorial Home Page

E-Mail the Webmaster
There have been
Visitors to the 3rd KY Company C Homepage since September 5, 1997